Spanish player José Maria Ortiz Pinedo Rodriguez, following the good results obtained in the last P&P competitions, counting for the WPPAR – World P&P Amateur Ranking, as were the Spanish P&P Open and the Spanish Ranking Final, played in the last month, managed to rise to the top of the World P&P ranking.
His fellow countrymen, such as Pedro Cielos, Fernando Cabezudo, Juan Soler and Cesar Caleya, also managed to climb the WPPAR table after a great performance in the Spanish Ranking Final played at the beautiful Aloha Golf Club in Marbella (Malaga), Spain.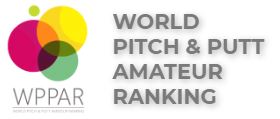 The former world number 1, portuguese Hugo Espirito Santo, thus dropped to 5th place in the World Ranking, now having a last chance to return to the top of the table, with the last IPPA competition of the year, to be held next weekend in Braga , Portugal, the LEXUS BRAGA INTERNATIONAL P&P OPEN 2019.
At stake is the 1st FARIOLI AWARD, which will be awarded to the player who is in 1st place in the WPPAR – World P&P Amateur Ranking, on December 31, 2019, ie, after this last competition in Braga.