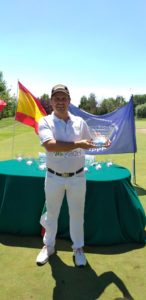 With his victory in the 17th Open d'Italia, Hugo Espirito Santo rises 3 positions in the World Ranking and is now in the 3rd position. Also, the spaniard Juan Soler Espinosa takes the 2nd position of the World Ranking, being only 7 points of the world-wide top, still occupied by Raul Toca Pedrajo, of Spain.
The Italian Leonardo Panza, with his 4th place in the Italian Open, went up 11 places, being now in 11th place with 206,5000 points.
Also Alberto Viotto (Italy) climbed 7 positions, being this week in 18th place of the World P&P Ranking.
However, the "king of climbs" was the Spaniard Ricardo Barroso Trujillo, who with his 5th place in the Open d'Italia, climbed 18 positions in the table, being now ranked 17th by WPPAR.
This group of players was joined by two Swiss players, Mauro Zaninni and Markus Planzer, thus becoming the first two Swiss players to enter the World P&P Ranking. They occupy the 48th and 53rd positions of WPPAR, respectively.